A2S All Star – Jafar Musa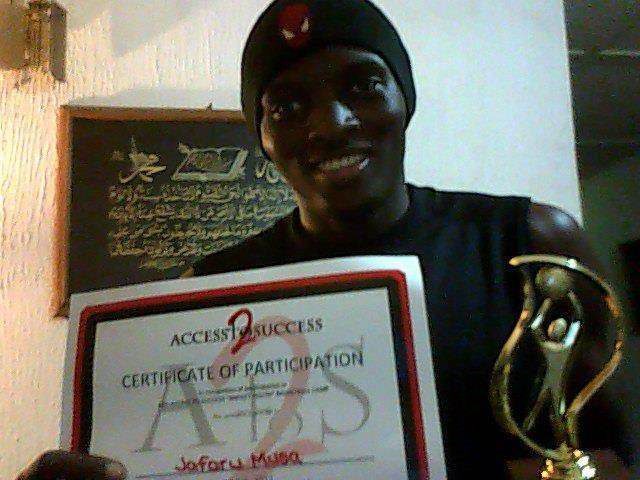 Jafar Musa, one of the beneficiaries of A2S programs in Nigeria and new student at the LCA-Liberty Christian Academy in Virginia, arrived in the U.S for the first time on Thursday, September 19, 2013. "Words are not enough to express my gratitude to God, A2S, and LCA for this rare opportunity. My new family, the Beissers, are a beautiful family and have welcomed me into their home with open arms," he said about his new transition to the United States.
Jafar was born on November 28, 1996 in Lagos, Nigeria, and grew up in Okpella, the village located in Estako. He lives in Benin with his uncle, and has done so since his parents sent him to live there for the educational opportunities the city has to offer. He is the third of five children and spent his childhood in the barracks, as his father was in the military. Fortunately for Jafar, he took to basketball at the Nigerian Air force base in Lagos. Jafar's mother used to be a fashion designer and hair stylist but due to the latest developments in her trade, she has to cease working. His family currently resides in the village and relies solely on his father's pension for survival.
For the past few years, Jafar has been a part of A2S programs in Nigeria. He was the MVP of our free summer basketball camp in 2012 and just recently, in 2013. According to Jafar, "A2S has given me kits, taught me basketball and despite the fact that I am Muslim, they have shown me that God is most glorified by our actions towards one another. From last year to this year's camp, I have gotten better. This year they taught us about health, diets, basketball and life, which made me more enlightened."
Jafar loves the balance of education, athletics and faith that LCA will bring to his life, as A2S has planted the seed for these values the past few years. "I hope to do my very best to make everyone proud and represent the youth being helped by A2S in Nigeria."