Interview with Jafar Musa: An A2S All-Star "Making This Place A Home"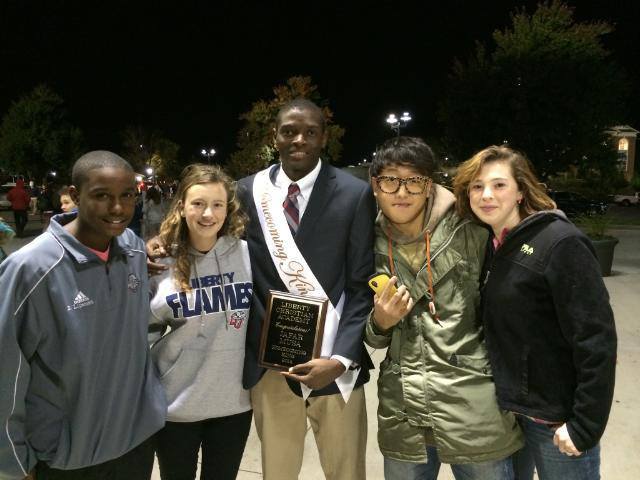 The past two summers, Jafar Musa, 17, attended the A2S basketball camp, and both times he was selected Most Valuable Player. This fall, he left his home in Benin City, to study on scholarship in Bedford, Virginia, where he lives with a host family.
Jafar seems to possess a rare, admirable ability to put forth his best effort in all endeavors. He maintains a rigorous schedule, studying and playing basketball at Liberty Christian. He hopes to attend Davidson College and play basketball someday, but for now he focuses on his high school studies. He even deleted all his social media accounts, something few American students can identify with.
The support he receives from his family and school has made his integration into American culture pleasant. His birthday fell on Thanksgiving this year, and when asked about his favorite food, he said, "You guys have a lot of food. Sometimes I can't remember the name. I just eat it!" As Jafar logged onto Skype for our interview, his host mother joined him because she wanted to say hello. "I feel like I have the biggest family in Virginia," he says. I spent some time getting to know him, asking him questions about his integration to the US, what it's like to live with his host family and how he's enjoying playing organized basketball for the first time, among others:
What is your name?
My Name is Abdul Jaffaru Bashiru Musa.
How many siblings do you have?
I have a brother and sister before and after me. (Two brothers and two sisters)
What is your favorite holiday and how do you celebrate it?
My favorite holiday is Thanksgiving day because it was on my birthday (11/28/1996). I celebrated that day with my host family and other relatives in my grandfather's house.
What kind of music do you like to listen to and who is your favorite musician?
I listen to Nigerian and American music. I don't really have a favorite musician but I have two favorite songs called Gone, Gone, Gone and Home by Phillip Phillips.
Who is your favorite professional athlete?
My favorite professional athlete is Kobe Bryant of the L.A. Lakers.
Other than basketball, what is your favorite sport?
My favorite sport other than basketball is Soccer!
What is your favorite food (Nigerian and American)?
My favorite Nigerian food is Eba and Egusi soup, while my favorite American food is Pumpkin Muffins.
What do you do for fun?
I watch Duck Dynasty, Basketball and movies with my host family in basement for fun! Hey Jack!!!
What do you want to study at University and what do you want to be when you graduate?
I want to study Accounting/Business at University and would love to become an Accountant/Entrepreneur and a professional athlete.
What is it like playing basketball in the United States?
Playing basketball in the United States gives me a great opportunity to compete in the land where the game was originated. It is totally different compared to where I come from. The facilities and regular competition are available through the school.
Tell us about your host family.
Well, I always feel blessed having the Beisser's as my host family. My dad Chris and my mum Katrina. My siblings Chloe, Sarah and Luke are pretty sweet and comfortable to be around all day! My host family show me love and care which makes me never homesick. They even google how to make Nigerian dishes to satisfy my appetite. We ride to school and other places together which is fun. We also have a family theme song called Home by Phillip Phillips. They always tell me, we love you and they are blessed to have me in their family and that brings joy and happiness to my heart. I love them more! My host parents are like angels to me, guiding me to the straight path in life.
What classes are you taking in school? What's your favorite class? What's the most challenging? What's your favorite part about your school? What's your least favorite part?
I take Environmental Science, English, U.S/Virginia History, Bible, Geometry and Strength and Conditioning. I also have study hall which I never had back home in school which is new to me. I don't really have a favorite class because all my classes are fun. My favorite part about my school is the relationship between teachers and students. It is so amazing when teachers and students smile in the hallways and the school principal giving high fives to students. Awesome!!!!! My least favorite part is for my mum driving us thirty minutes to school. I wish it was just five minutes.
Have you made many friends at school? Tell us about your closest friend.
Yes I have made many friends in school. I have friends from elementary to high school. I love kids!! I don't really have a close friend. I enjoy the way we move from one class to another, its gives me the opportunity to meet and know more people. Unlike in my school in Nigeria, where we sat in class while the teachers rotate class period.
What has been the most difficult part about transitioning from life in Nigeria to life in the United States?
The weather here is a big factor compared to Nigeria. I am really struggling with the cold, but my host parents provide the warmest clothing and atmosphere to keep me warm always.
What or who do you miss the most from Nigeria?
I miss my family and my mother the most.
Who is your biggest role model from A2S? What is one lesson they have taught you that you feel is important to share with the people that will read this interview?
Andrew Lovedale is my role model. Having been in A2S impacting youth through faith, sport and education camps for two years. During our class time in the camp, we were taught about hygiene, eating right diets, relationship with God, being disciplined and responsible in life. The one important lesson I could share is a quote from my role model. He says, " Your future is in your hand, so sacrifice today as a youth to enjoy the future".
Jafar makes the most of his opportunities by working hard to achieve his goals. A2S has helped him along the way, and continues to help kids in Nigeria find success in the classroom and beyond. You can be apart of this effort by joining one of our ongoing projects, or by launching your own mya2s campaign. Click here to learn more, or email andrew@a2sfoundation.org.