Upe: An All-Star On and Off the Court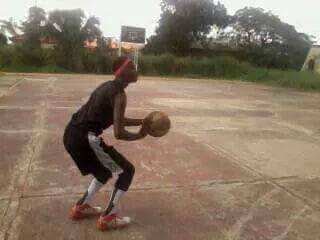 Upe Atosu Esther has an astounding level of self-assuredness and confidence for someone just 20 years old. A member of the Nigerian women's national basketball team, she works to advance the position of women in her country rather than simply utilizing her natural talents for her own glory.
Recently, Upe organized a basketball clinic for young girls at Idia College, an all-girls school in Benin City, Nigeria. Before her vision could come to fruition, she needed a court. Upe — a former Most Improved Player at A2S' annual basketball camp — reached out to Access to Success to help renovate the school's court and provide prizes and basketballs. Volunteers repaired the rims, repaired the backboards and painted the court purple and pink to match the school's colors to ready it for the clinic.
On March 14-15, the two-day clinic, "Stop the Excuses: Ladies Have Talent," took place with 100 youth in attendance. Camper Sandra Agbebaku spoke about the empowering message that Upe delivered to the young girls who participated."I learned that we should not be distracted when playing basketball," she said. "The camp made me believe that girls have talent too and that what a man can do, a woman can do better."
As Sandra's words suggest, Upe's vision for the clinic was to discuss her hope for the women in Nigerian society. When asked about her motivation for facilitating the clinic, Upe said, "Women in Nigeria are second class citizens with no voice, no confidence, and they cannot communicate. A2S taught me that I can be so much more and that I can do more.">
Through her partnership with A2S, Upe is shaping a healthier perception of self for the young girls of Nigeria, striving to empower the women in her community by altering the way they see themselves. She believes that by creating a more confident sense of identity, women can achieve more than they thought possible. Who better to send this message than the starting point guard of the Women's National team?
A2S President Andrew Lovedale chatted with Upe about her mission to empower young girls and her recent clinic at Idia College.
What do you hope these girls learn from you and your story?
My overall message to the girls through the camp is that they should put their trust in God, in themselves, and in their futures.
Why did you decide to share your story?
I remember that you told me not to be shy about sharing my story or be ashamed of my background. I went home that day and thought a lot about it. It was after talking with you that I decided to let go and share. From sharing through the camp, so many young girls felt good about themselves and their futures.
Why did you decide to host this clinic?
There is something about you and the way you live your life that inspires me. A2S camp made a contribution to my life beyond basketball and this alone motivated me to want to start my own camp. Not everyone has direction, but this camp helps provide one.
Why do you think sports can empower women?
My father barely knows how I went to school or where I schooled. I remember going home from school everyday to help my mother hawk boiled corn. I walked with a tray on my head all afternoon and evening. She later stopped and started selling akara (a deep fried black eyed peas peeled into a ball often sold as street food). This is how my mother managed to pay for me to go to school. She gave me the little she had. Basketball was love at first sight for me and today it has given me an opportunity. This can help women become more enlightened to take their place in society. Never underestimate the power of a woman.
Want to help A2S help Upe and others like her impact their communities? Donate to the MyA2S 2014 Basketball Camp Campaign today!