Uche Ufochukwu: Strength in Character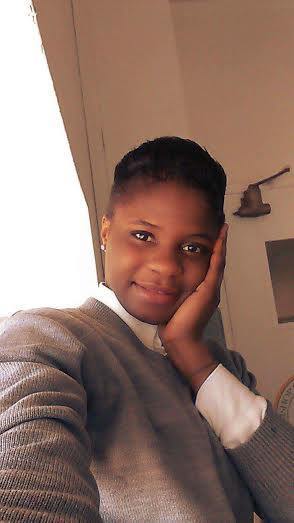 Uche Ufochukwu is a 16-year-old girl from Benin City, Nigeria, who had never played basketball until April of 2013, when her life intertwined with A2S. This year, Uche will travel to the U.S. to study and play basketball through a partnership with Hope 4 Girls Africa and Archbishop Carroll High School in Washington, D.C.
That April, Uche was on her way to visit a friend when A2S Program Coordinator Ehis noticed the six-foot-three-inch youth as she walked by the basketball court where he was standing with Coach Victor. The pair flagged her down and asked her to join the group and play basketball. Uche was interested, but needed permission from her father.
Raised in a traditional Catholic home, she worried that her father would not allow her to play, as he was strict with her and her sisters. To her surprise, her father said yes, but her mother thought otherwise of the idea. Because she sells used clothing in a street stall and relies on Uche to help, her mother worried basketball would interfere. "I will work two straight weeks at the stall," Uche negotiated. "After which you will buy me basketball shorts, and I will start learning to play." After Uche fulfilled her promise, her mother saved up enough to buy her basketball shorts, and she joined Ehis, Coach Victor, and Coach Philip, who coaches the women's basketball teams and serves as co-director of the A2S annual women's camp in Nigeria, in the girl's basketball program.
After her mother bought Uche her first basketball shorts, Ehis gave her first basketball jersey, and Coach Philip completed her uniform by gifting her the first pair of basketball shoes. In a few short weeks, Uche was a beginner at the 2013 A2S annual basketball camp, eager and excited to learn about basketball.
"I was surprised to see that even short people played basketball," she said. "I realized that basketball had more to offer when I saw Chiney Ogwumike (number one overall pick in the 2014 WNBA draft out of Stanford University and current Connecticut Sun forward). We were almost the same height, and I said to myself, if basketball helped her, it could also help me. That is when I decided to pursue it with everything I have. Also, the nutrition aspect of the A2S Empowerment camp was my favorite part of camp, as I was out of shape. I toned up, knowing what to eat while playing basketball."
After camp, Uche embarked on a mission to her reach her dreams. She woke up at 5 a.m. every day, walked an hour to take her two younger brothers to school before arriving at her own school by 7:45 a.m. In the afternoon, she returned home to prepare lunch for her younger siblings and walked to the basketball court in the evening, nearly five hours of walking a day. "I trek everywhere," she said with a smile. "Getting an education for five of kids is very tough on my parents so I had to give up taking the bus so I could attend school." She played basketball every day, with exception of the days on which she helped her mother run her clothing stall. During the holidays, Uche played basketball twice a day.
A year later, Uche was dominating the boards on the basketball court. Around camp, she encouraged her teammates when they started their games poorly. Ugo Oha, a former professional basketball player and Olympian wrote after this year's basketball camp, "I had the pleasure of watching one post played named Uche. As I watched her play, I was reminded of myself. She was filled with energy and always had a smile on her face."
After seeing her strong character and talent on the basketball court at camp, A2S met with Uche to discuss opportunities for her future. She showed up late, with sweat dripping from her clothes. "I did not have money for bus," she explained. "I was at the stadium running up and down the steps trying to improve on my athleticism."
Partnering with Hope 4 Girls, A2S has helped Uche secure a scholarship and roster spot at Archbishop Carroll High School to continue pursuing her dreams. When the phone rang with the good news, an excited Uche screamed, "I am so happy!" With her visa approved, she began planning her trip to the U.S.
Uche's parents were only able to finish their primary and secondary educations, but through her strong character and work ethic, Uche has the opportunity to control her future and further her education, undoubtedly inspiring her peers at home and others along the way. As she pursues her dreams, she understands that it will not be easy but believes her struggles have prepared her. An aspiring accountant and WNBA player, Uche is thankful to those who have set her on a path to success, empowering her with a rare opportunity for a young Nigerian girl and helping shape a future in which she hopes to help others build their dreams.
"I am grateful beyond words for this opportunity," she said. "I don't know how to say thank you to God, A2S, Hope 4 Girls and everyone else, but I promise not to let you down."