An A2S FATHER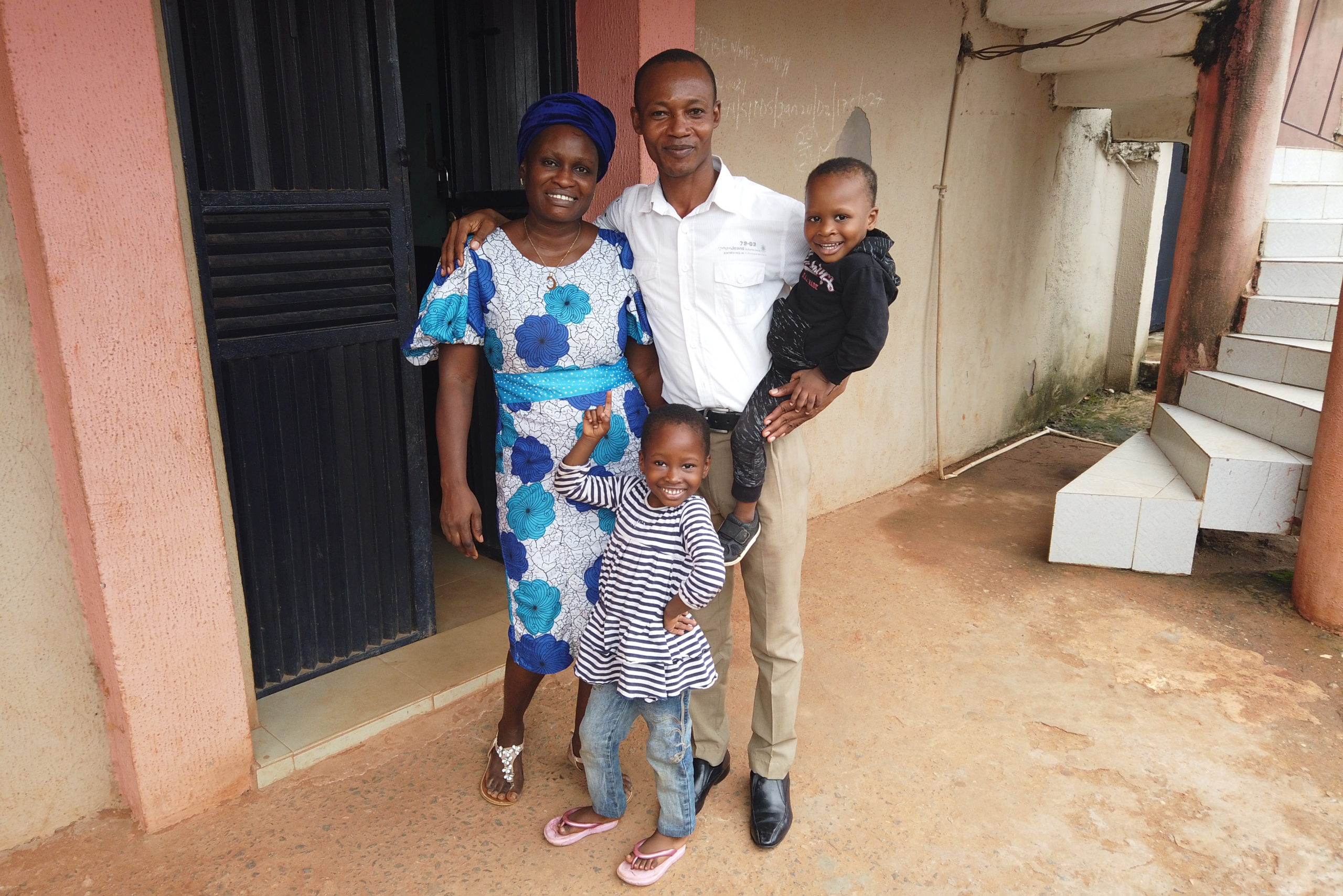 What is your name and what does it mean?
My name is Bradford Ibhafidon Atole. Ibhafidon means "I am blessed."
How old are you?
I am a bit above 2 scores, so just over the age of 40.
Can you tell me a bit about your background? 
I am from Edo State, Esan West local government area, south-south Nigeria. I have a humble background and I have lived the greater part of my life in Edo State. 
What was it like being a kid?
It was pretty much like every other child. I was innocent and filled with naivety. All I knew was to eat, play, and sleep. I grew up with my parents and my siblings, and my family was one that was disciplined so we turned out well-trained. 
Tell me a fun memory from your childhood?
Growing up, my mother used to serve us food according to our position in the family. I was the fourth child of the family. When my mother gave us the menu, she would ask me to pick a portion before my elder siblings. I respected my elder siblings and chose the smaller part because I thought I might get in trouble or be called greedy by my elder siblings. The only problem was, my younger siblings would then take the more substantial portions, and they did not get in trouble. I laugh about it any time I remember that event.
What do you do for a living?
I am on staff at Gospel Life Bible Church.
Tell me a little bit about your family?
My family is a very close-knit one. I have a wife and two children, and it's lovely to have a family of my own. Each family member cooperates such that whenever a member is not around, it feels like there is a void. 
What did it feel like the first time you knew you were going to be a dad?
There are different kinds of joy for various life events, but holding your child is just overwhelming. It is an awareness that this is someone with your flesh and blood, a mini ME. 
What is your most memorable moment as a father?
My wife experienced difficult labour, and it was not easy seeing her in pain. There was nothing I could do aside from pray. I prayed for God to keep my wife and child safe. When I went home to get something she would need, I returned to the hospital, and the nurses informed me that my wife had safely delivered our baby, and there were no complications. The relief I felt could not be quantified. It was truly memorable. 
What would you consider your greatest success as a father?
My greatest success as a father is leading my family in the way of the Lord. My wife knows God, my children know God, and God is in the centre of who we are. I am grateful for the opportunity to be His willing vessel.  
What is your favorite thing to do with your child/children?
We enjoy spending time together, cracking jokes, and learning together. I also love sharing the good news of Christ with them. 
What essential values are you instilling in your children and why? 
Proverbs 22 verse 6 teaches parents to train up their child in the way of the Lord, and when they are older, they will not depart from it. As a parent, I teach my children to acknowledge God and have an established personal relationship with God so that when we are not there with them, they would still remain Godly children. I also teach them the value of prayer and the central role it plays in the life of a child of God.
How and what do you know about Access to Success?
I have known about A2S since 2011, and I have only heard and experienced their good deeds since.  I also know that their major aim is to alleviate the plight of the less privileged in the society. I know some of the lives that A2S has touched and they are becoming a positive force to be reckoned with in future. They have taken them from grass to grace, and they are not stopping. I believe God will keep strengthening them.
How has your life as a parent changed since your children joined the A2S foundation? 
My life as a parent has positively changed because A2S plays a complementary role. They provide different kinds of support, spiritual, moral, academic, financial, among others. They are influencing my children positively, and that is giving me great joy. 
Has the foundation shaped your life in any way?
Yes, the A2S foundation has shaped my life significantly because they are doing great work in my kid's lives. I know my kids are in safe hands. 
As a father, how will you encourage your child to give back?
I encourage my children to give back by teaching them to pray for others since they are still young and might not be able to volunteer physically. I encourage them to pray for others at all times, put others before themselves, and I am sure that they will not depart from it when they are older. 
As a father, from where do you draw your strength?
I draw my strength from God and my family. I have faced challenging times, and it is quite unexplainable how God works wonders in my life and that of my family. 
What would you say to those who wish to be fathers but are not?
I would advise intending and expectant to trust God and worry less because there is nothing too difficult for Him.
Is there any advice you would give new fathers?
Fathers should lead by example and make God and leading their families in the way of the Lord their utmost priority.