My A2S Story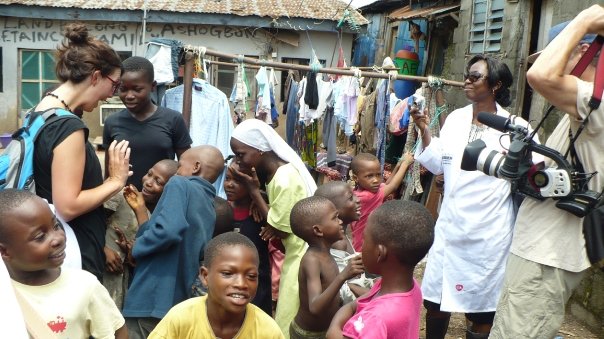 By Lauren Biggers, Co-founder & 2016 Trip Member 
A few months ago, we were at an Access to Success board retreat, and the facilitator had us go around the room and talk about how we had gotten involved and why. "Tell me your A2S story," he prompted.
Oh, that's easy (lol, as if starting an international non-profit from scratch with zero experience could ever be easy…), I had a life-changing experience in 2009. I'm a co-founder.
A few weeks ago, we were at the wedding of my good friend Morgan Clark. From wedding registries to toasts to casual conversations, A2S was an ever-present part of Morgan and Andy's weekend. It was impressive, and it was impactful. "How do you know the bride?" they asked.
Oh, I've known her for a while. She's one of my favorite humans. We're co-founders.
A few days ago, a co-worker wondered into my office to drop off a donation. "Oh, you're going with Andrew Lovedale to Nigeria? That's just great… How did you get involved?" she wondered.
Oh, I knew him as a student-athlete. He's basically my "little" brother. I helped him co-found A2S.
I am a co-founder.
And yet, I am also deeply private, and a little bit shy. If you follow me on social media or have been to one of my theme parties, I know you think that's impossible. (Yeah, I like Instagram and also, wigs. Sue me.) It's hard for me, it always has been… this talking about myself, about A2S. It's why as much as I love writing, I could never fully be a writer… that inherent requirement to bare your soul to strangers is always too much for me in the end. I prefer to create characters (though, I assure you #hurricanecindy is very much real), to stand in the shadow of giants basketball players. This inability to talk about myself (ew, feelings) paired with a professional history of telling other people's stories has made telling my own difficult, even uncomfortable at times. The depths of my heart are reserved for few.
And A2S – a thing about which I am most proud of in life, resides squarely in the depths of my heart.
I am a co-founder.
Here I am, about to travel to Nigeria for a fourth time, (there's a sentence I never expected to write…). And I CANNOT. WAIT.
On Monday night, I will board the plane to lead a team to Benin City, Nigeria, one of my favorite places on the planet (along with Napa, Cancun and probably, tenders #amiright?). To remember the results of six years of writing and rewriting mission statements, of hiring first one staffer and then another and another and another, of starting a daily feeding program for nearly 150 kids and annual summer camps for thousands, of putting on a 5K one year just to pay the bills to raising hundreds of thousands of dollars a few years later, of opening a computer center and hiring math tutors and creative arts directors, of bringing kids to the US and watching them become homecoming kings and salutatorians and scholarship winners. Of a strange place becoming home and friends near and far becoming family. Of sharing smiles, inspiring hope, empowering dreams. Regardless of where we were born.
And I did that. With a (mighty, mighty) village, sure, but I did that.
I am a co-founder.