Woman Leader

Abigail, the youngest and only girl child in her family, is popularly known as "woman leader" at the A2S After School Academy. She is always smiling, and  keeps a hive of female friends around. These young ladies do all sorts of fun activities together such as singing, dancing and reading. 
Abigail is an A+ student that studies 13 different subjects at school. She longs to achieve academic excellence and is always willing to improve. She is especially happy that she is getting the help she needs in agricultural science at the After School Academy. She is grateful to her A2S teachers who make learning fun. With all of the helpful materials available, Abigail is certainly eager to learn. She enjoys asking questions in class because she is sure that she will get befitting answers. 
Abigail has big dreams and daydreams about being a beautiful fairy godmother that would help fix the many issues in her community. Her community's sewage system is a mess, and there are always leakages that often make people sick. She also wishes her family and community could have free access to clean water, but her biggest dream of all is to become a medical doctor and a pastor. She would love to help the sick and spread the unconditional love of Christ to the world.
Abigail is full of hope and smiles, especially during A2S' summer programs. She thoroughly enjoys the annual Vacation Bible School (VBS), and loves the supplies she receives from supporters of A2S such as: school supplies, bags, loads of stationery, shoes and beautiful A2S souvenirs. Each year, she even learns new songs to teach her friends at school. VBS, being a high point for her, is a program that she prays for often. She hopes that more supporters and friends of A2S would visit and get involved in sharing smiles through community outreach initiatives such as VBS.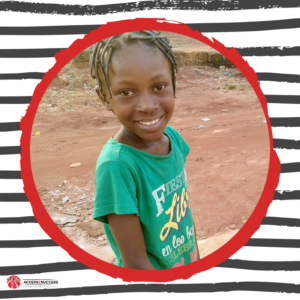 Abigail is Talented. This young lady is not only a praise leader in the children's department of her church, but she is also an active member of the Music Club at the Academy, where she receives her voice training. She experienced musical thrills as she participated in the production of the music video for "The Light Has Come" by the band You, Me and The Bread. Because of the music video, she now has more confidence in her singing abilities. Abigail knows that praises reach the heart of God, and she is willing to use her singing talent to glorify God and uplift people. 
Ten year old Abigail knows what it is like to live without ends meeting, but she is hopeful for better living conditions and grateful to A2S for the role they play in alleviating poverty and hunger in her community. We pray that God empowers her to achieve all her heart desires according to his riches in glory.
We believe children should love to learn. Every day, 250 youth swarm the A2S After School Academy, excited to have a safe, engaging place to go after school. We tutor. We play sports. We make music. We mentor. We explore technology. We celebrate the children's imagination and encourage creative thinking. Our goal is to keep children in school and help them move from one grade level to another.
To help children like Abigail continue to grow and learn in an environment that cares for the whole child, consider a tax deductible donation to our end of year campaign, My Dream Project.