Erica's Mission Trip Update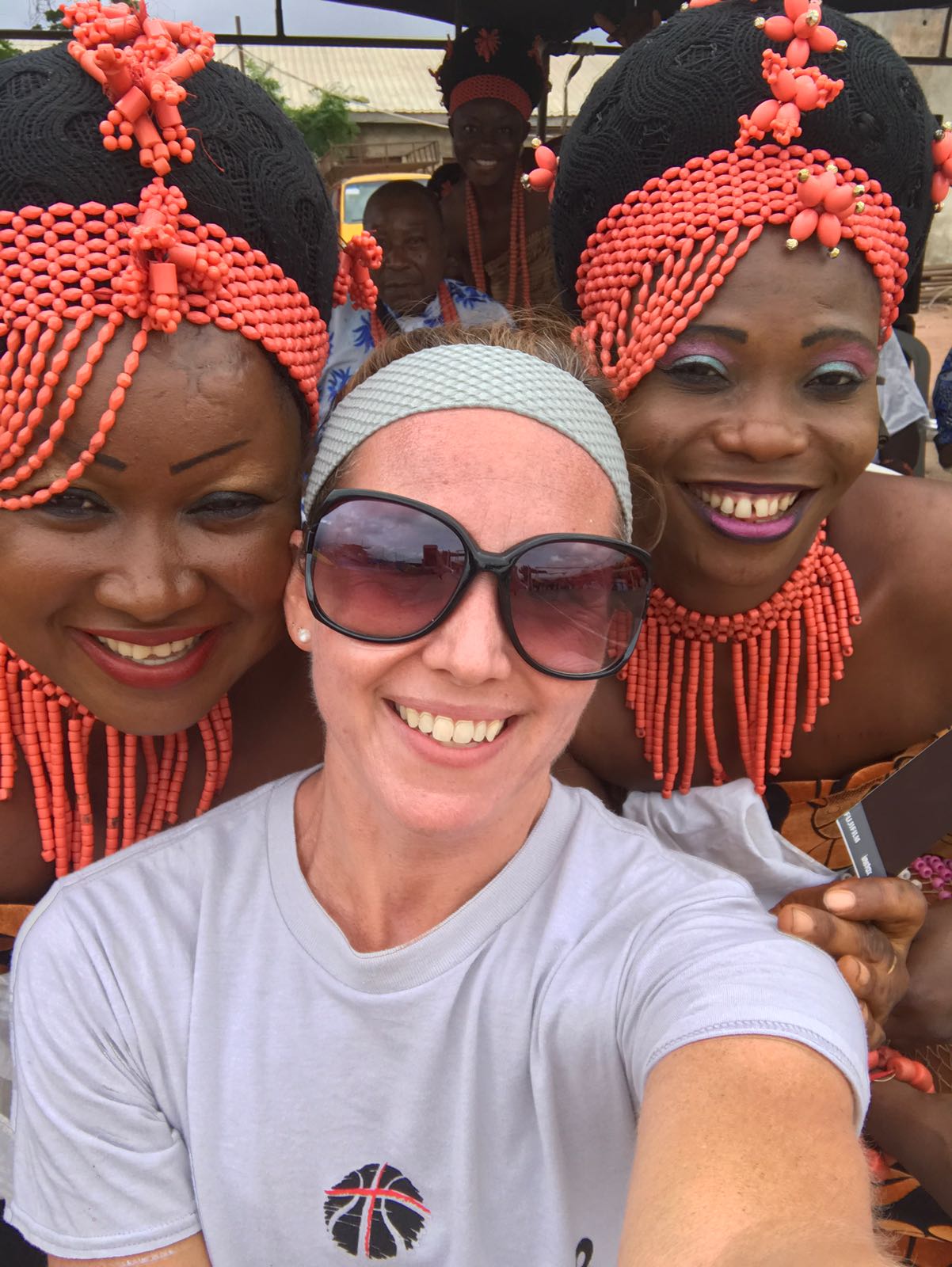 Two cultures. One people. Exponential impact.
Despite leaving on Saturday, today was the day it really sunk in that our team is in Nigeria. There were no (delayed) airplanes, no checking into hotels, no moving luggage, no being disrupted by uncontrollable circumstances. Today we operated on our time – well, African time – but still more on our own schedule! Today it felt like we blended our cultures; A2S Team USA and A2S Team Nigeria operating as one to touch others, and one another, for an exponential impact.
I'll preface my highlights by sharing that this is my first trip to Nigeria, a blessing I could have never imagined just a short time ago. I joined another newbie on this voyage – Davidson College head men's basketball coach Bob McKillop. Having worked in athletics at Davidson many years ago, I've been privileged to be part of many McKillop moments – speaking engagements, pre-game meals, press conferences – and they have always been packed with wisdom, full of symbolism, and focused on leadership in life. I never could have guessed when I met Coach 15 years ago that I would witness and learn from him in a country 4800 miles away from our home base.
Exponential impact.
As I listened to Coach engage a large group of Nigerian coaches, I smiled at things I remembered from my time with the Wildcat program. I nodded at his impactful words, stories, and advice … realizing that lessons are just as relevant halfway across the world as they are in the United States. As he reminded us… "we are teachers… we are leaders … we are fathers … we are mothers… there is greatness inside everyone of us."
Exponential impact.
The greatness inside our A2S teammate, Mrs. Carol McQuillen, was being shared as Coach McKillop spoke those words. This newly retired teacher, nonprofit leader, and mother-in- law of A2S founder Andrew Lovedale, shared her passion with a packed room of fellow educators. I walked in on the group, standing as one, singing together. The ideas exchanged, activities shared, and conversation generated made for a powerful day for every teacher who committed her time to getting better – another lesson Coach McKillop impressed upon us during his clinic. A mental mindset – get better, at least a little bit better, every day.
Exponential impact.
Hard to believe, but Coach McKillop and Mrs. McQuillen were only part of our Independence Day (Nigeria style!). What was a dream a year ago became a reality when we gathered as a community to dedicate the brand new A2S Basketball Court, named in honor of Coach McKillop. Now, for my friends in the United States, a new basketball court might seem run-of- the-mill news. Here in Nigeria, it is cause for celebration. Basketball courts as we know them don't exist, and the rundown courts you do find are few and far between. The sheer excitement on the players faces as they ran out on that court was a memory not to be soon forgotten. Many of them walk for hours to find a court to play and hone their skills each day. This community court in Benin City will touch athletes for years to come.
Exponential impact.
The new court was certainly enough reason for celebration, but our Nigerian family wanted to make sure we felt at home while traveling on our country's Independence Day. Red, white and blue decorations hung from tables surrounding the court, food and drinks were enjoyed, and different cultural dances were shared by several Nigerian tribes. We traded stories, posed for endless selfies, and were often drowned out by the bouncing of balls on that beautiful court behind us. Perhaps the most special moment of the day came as we all stood, hands over our hearts, swaying and singing the words of the National Anthem for each of our countries.
Today we were two cultures, but one people, making an EXPONENTIAL IMPACT.
I can't wait for tomorrow.