A Family of A2S US Scholars
Ifeanyi is one of seven of our A2S U.S. Scholars. He is following in the footsteps of his older sister, Uche, who is pursuing her master's at Bradley University in Illinois. This young man attends high school at one of our partner schools, Covenant Day School in Matthews, NC. We are so grateful for the man that Iffy is and the one he is becoming. Today we celebrate his 18th birthday! We caught up with him to hear his thoughts on being in the U.S. and the upcoming event, Hoops for Hope, that he is co-leading with another A2S US Scholar.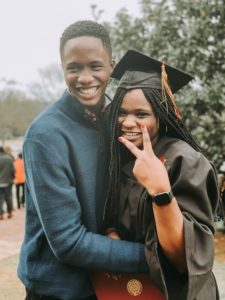 "I have always heard about Access to Success from my sister, Uche, and her friends while playing basketball in Nigeria. I never knew who A2S was or what they stood for until my sister traveled to the United States. Even after she traveled, I still did not pay attention to any detail concerning Access to Success.  All of that changed when she came back from the United States. I was told that Mr. Andrew Lovedale, the founder of Access to Success, wanted to speak with me at the A2S Basketball and Empowerment Camp. I never wanted to show up because part of me knew that he would try and convince me to start playing basketball. Out of respect for Mr. Andrew Lovedale, I showed up with the intent of listening to what he was going to say but never actually apply it because I was a soccer guy at the time. I also knew he would leave for the United States after the camp, and he was not going to be with me to make sure I started playing. After meeting with him, he asked me why I was not playing, and I told him that I did not have the time to play. So, he said that he would get me a pair of shoes and he wants me to start playing. Eventually, he came through and got me a couple of basketball shoes. Getting shoes that day was the highlight of my week. I was so excited and happy and could not wait to start using them. The feeling of getting shoes like the ones I received was unexplainable. It was a massive deal for me because I have never gotten shoes like that in my life.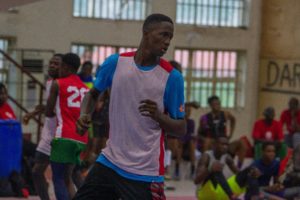 That was a turning point for me. I started playing basketball and got involved in the Access to Success After School Academy. The After School Academy is a place where many people, including me, learn more after school. Not only that, but we also get good meals every day as we learn. It is a community filled with teachers and people that love us, and that is one of the significant reasons people show up every day – to grow and learn. Soon after I started playing basketball, I fell deeply in love with it, and it became an everyday thing for me. I found myself playing basketball each day, and since then, it has been an integral part of my life. The annual Access to Success Basketball and Empowerment Camp became something I look forward to every year. Learning in the camp and, most importantly, getting shoes was the highlight of my month, and I never dared to miss it."