Campbell Worsley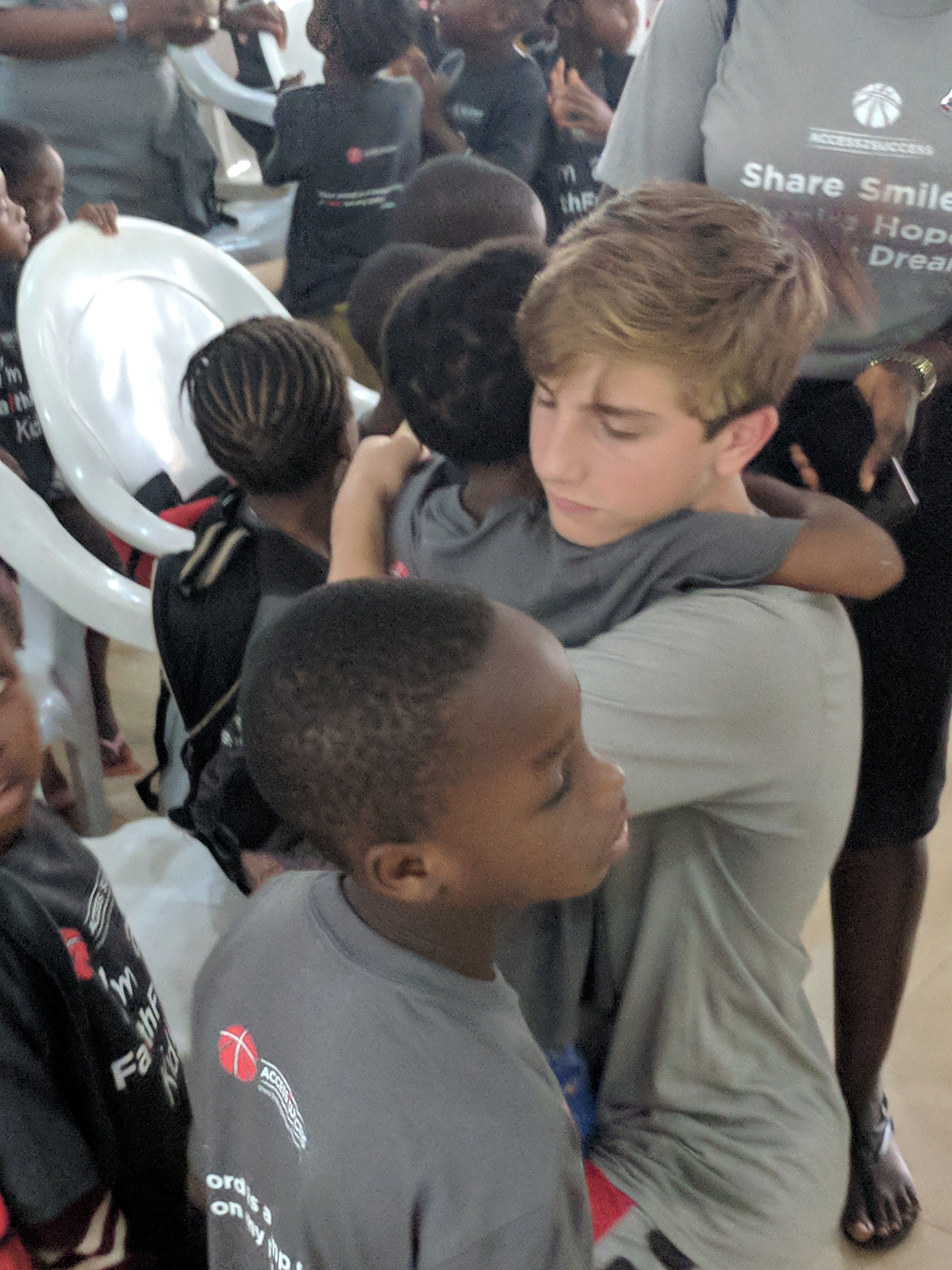 Written by: Campbell Worsley
I went into this day stressed, mostly about my VBS station, which I felt was lacking in some of the details that made the other successful. As soon as I saw those kids, all of my worry and doubt disappeared. I was filled with feelings of Joy and overwhelming love. I can't begin to describe all of the emotions that were flowing through us that day, but I can however tell you what we did. The day started off with our morning devotion led by Holly Worsley, an A2S board member and my mother. After devotion we had a hardy breakfast of noodles and plantains while discussing LeBron's trade to the Lakers. Next, we journeyed down to a nearby government sponsored school. There we handed out a lovely pair of socks and an A2S booklet to each student. Upon receiving their small gift they broke out into joyous songs and laughter. As we left the school the kids all gathered around the buses yelling "thank you."
Next stop was the land that A2S has purchased to be site of their "soon-to-be" new building. There I took out my filming drone that I happened to bring along and took some videos and pictures of the place that will someday bring so much joy, learning and happiness to this country. Having worked up an appetite we made our way to lunch at Kada Fried Chicken where we gorged ourselves on chicken (big surprise) and fries. Then we made a quick stop at the hotel to gather our things and headed to VBS. The children had not yet finished school when we arrived so we familiarized ourselves with the church and prepared our things for VBS. Once the kids started to arrive we began serving food and water for every child that showed up. These kids immediately started hugging and tackling us like we had already known them our whole lives. It was so encouraging to see how they truly seemed to enjoy being with us.
Once everyone had eaten we began our VBS classes. There were five age groups and five different classes. Tiffany and I led one of the classes. Our class was called "Pouring Into Others." At this station Tiffany told the story of the Good Samaritan while I acted it out very dramatically. We then played a game that was some sort of "Hide and Seek" with stickers. The little kids loved their tiny stickers SO much that they were still wearing them today, two days later! We did this with most of the groups, except for the oldest ones with which we did a blindfolded obstacle course. Once every group was finished with their classes we gathered everyone together. At that point we had a dance party, which was my favorite part of this trip so far. Everyone let loose and danced their hearts away. After the dance party we gave each student a Juice, Jolly Rancher, and a Phillies shirt pin. Again, I was amazed by the thankfulness of these children who were over the moon about this small gift. After saying our goodbyes and telling them all we would be back the next day, we got on the buses and began the car ride to Pastor Ben's house. Once we arrived Pastor Ben immediately singled me out just as Quinn (my friend on Team 1) had warned me about. He served us our food and made us feel welcome. The food was plentiful and delicious. We quickly devoured it. When everyone had finished eating Pastor Ben prayed for us and we made our way back to the Hotel.
The way that these kids, who have nothing, devote themselves to the God Almighty brings me both awe and inspiration. If we all can learn to love people and love God as they do then we can make the most of the life God has planned for us. We must take after them and live out our role in Gods story.