How I came from Nigeria to the U.S.
Happy Birthday to one of our A2S US Scholars, Eseosa! This young lady is the life of the party. We are so grateful to watch as she continues to grow and learn alongside our partner school, Covenant Day. Eseosa is one of two A2S US Scholars who will be leading a Hoops for Hope campaign at her school in the coming weeks. We caught up with her to hear a little more about her 18th birthday wish!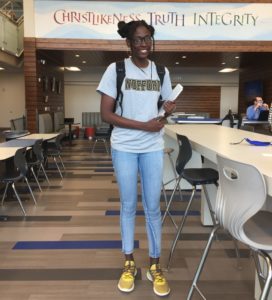 "My name is Eseosa. I attend Covenant Day School in Matthews, NC, and I wanted to share with you about my journey to the A2S U.S. Scholarship Program.
When I attended my first A2S camp, I got a bag, and inside of it contained a new pair of shoes, a water bottle, socks, and a wristband. I remember always wearing the new pair of shoes to my school, basketball practice, and even to the church. It meant a lot to me because we usually got new pairs when Christmas was approaching. Getting the shoes, I felt so much joy and happiness in me. Just the way I felt when I got the shoes, you might be putting a smile on someone's face by donating a pair of shoes to kids in Nigeria.
 I first heard of the After School Academy after attending the summer camp in Nigeria.  Reaching the Academy, I noticed the smiles on kids' faces and the wonderful community they had. Each A2S kid had so much hunger for learning, and I had so much joy seeing the kids eat with so much peace on their faces. I also had so much joy coming to the After School Academy each day, getting lunch, doing my homework, and learning new things.
I miss my family so much, but I want to give my host family a big shout-out. Hosting a stranger is a brave thing to do. They take care of us like their own because of their kind hearts. My parents in Nigeria know I am in safe hands because of the way they nurture us. 
In conclusion— Our host parents get us shoes, but if you can donate a pair of shoes for A2S summer campers, that can serve as my birthday gift to me. In that case, you will be putting a big smile on someone's face.  Thank you!!!"