LOVETH EDO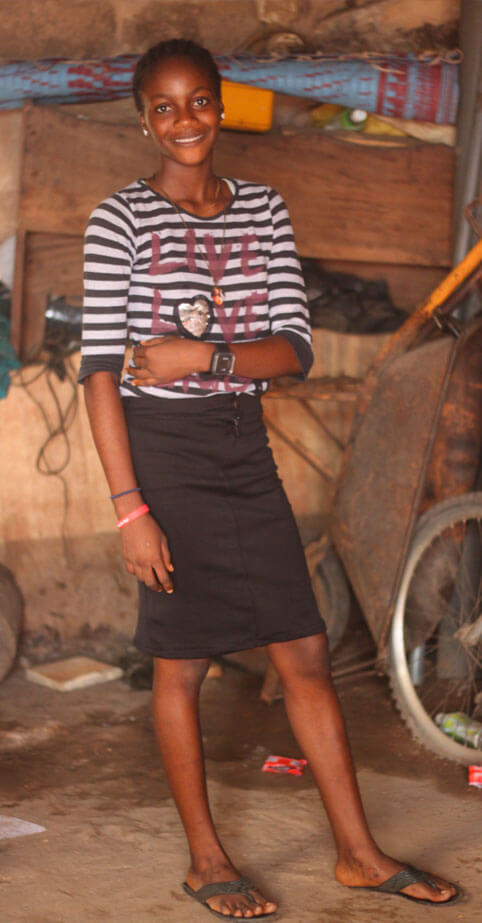 At 16 years old, Loveth dreams of becoming a banker, an entrepreneur, or a governor. She hopes to be able to build a house for her family, as well as a big supermarket for her mom, who works as a nanny.  She would also love to buy a car and build a company for her dad, who works as a furniture maker. The last thing on Loveth's work agenda is to ensure that her siblings get the best education possible. That is a lot of pressure for a teenager who is the fourth of six siblings.
When Loveth is not contemplating these issues, she spends time reading. She enjoys going to church, singing praises to God and helping her mother with household chores. Loveth, however, is not a fan of cooking, especially when the meal involves beans. She otherwise enjoys eating, and one of her happiest moments is when the pantry is stocked with food. Her favorite meal is fried rice and chicken.
There is something special about this teenager, who has chosen our very own Aunty Thecla [A2S National Director] as her role model. Loveth talks to Aunty Thecla when she is bothered and not only listens to, but heeds the advice Aunty Thecla gives her. She maintains that Aunty Thecla is warm, friendly and easy to talk to.
It's no wonder that she longs for wisdom since her favorite Bible verse is from Hebrews 12:14, "Pursue peace with all men and holiness without which no one will see the Lord."
Loveth wholeheartedly believes that Jesus is the Son of God, our Lord, and her personal guardian Savior. Loveth truly believes that Jesus is the reason she wakes up each day.
The SS1 student of Oredo Girls Senior Secondary School enjoys good grades in Math and English, making the cut as her most liked subjects. She is not thrilled about Economics but admits that having a home tutor will help with her school work.
Complications in her community do not make things easy.  Some challenges include lack of power, bad roads and trash dumps.  She would like to help by empowering orphans, tarring roads and ensuring that there is a constant power supply.
Loveth is a light shining brightly and she has these prayer requests to make:
Loveth prays for God's guidance, focus, wisdom and knowledge. She prays for God to help her improve her grades and excel in Math and in her studies at school. Loveth prays for God's provision for her parents and success in everything they do. Finally, she prays for God to make her successful so she can contribute to her community and her country.
And we say a resounding amen!