Uche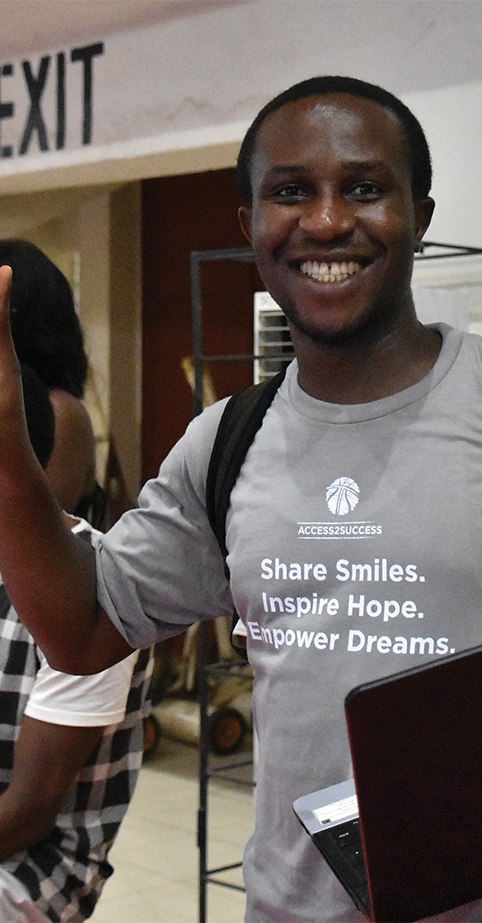 Every evening after school, Uche and his friends would go to the basketball court in one of the poorest areas of Lagos, known as Kiri Kiri town. There was a half court in terrible condition that the youth in his neighborhood managed to maintain so that they could play basketball and have an outlet from their day to day frustrations. Because they were so young, Uche and his friends were rarely picked to play, often watching from the sidelines while the older youth competed.
A2S President Andrew Lovedale, home from school in the UK, was searching for a place to play basketball. The closest court he could find was the court at Kiri Kiri. When he arrived, he had to pick his team and to the surprise of everyone, he picked the younger Uche and his friends. Andrew remembered how he had received a similar lucky chance when he started playing basketball a few years before, and he saw it as an opportunity to encourage Uche and his friends. Andrew loved Uche's positive attitude and invited him to his uncle's home the next day. After hearing Uche's story, Andrew became his mentor, emphasizing the key to his own successes, and teaching him to play basketball. This was prior to Andrew creating A2S, and he likes to say, "Uche was my first success story."
Uche soon realized that he admired Andrew as a role model and began to better himself from his relationship with Andrew. "When I first met Andrew, I would take notes on everything he said when I got home after spending time with him," he said. "I wrote down some things when I first met him … things like, he is close to God, he does not drink alcohol, he does not smoke, puts others first, and he pushed through adversity. He believes in me and if he can do it, I can too."
When chatting about his first encounter with Andrew, he paused and spoke very emotionally, saying, "Without Andrew I would be a young boy with two or three kids today. That is the life most of my childhood friends are living. This is the direction my life was taking me when Andrew invited me into his life. While my friends were engaged in gang violence, drugs, and early fatherhood, Andrew was home and our time together on the court was an outlet where I could learn."
A2S summer Vision Trips serve as an opportunity for Uche and his mentor to reunite. Uche spends time with the A2S team from the US, serving the mission of A2S as encouraged by his mentor. Uche was excited but anxious because it was not an easy task to pay the fees associated with attending one of the best universities in West Africa. In 2013, Andrew and his wife, Molly, supported and encouraged Uche to take entry exams into the University of Benin, which he passed with flying colors. Uche's dad told him that he could not afford the fees for him to attend University, and he was once again faced with the reality of his situation.
A smiling Uche said, "I thought it was a joke when in 2013 Morgan (A2S Co-founder) asked me how I would feel if A2S helped me realize my dream of becoming an engineer. It was surreal to see how A2S was helping me picture a future that I always wanted but one that seemed out of reach."
Uche is one of the first A2S scholarship recipients and graduate from the University of Benin with a degree in Chemical Engineering. While studying, Uche also volunteered his time at the A2S After School Program, where he assist our National Director. As a  graduate, he continues to pour in to the academy and our summer Vision Trips by interning with A2S.
Andrew continues to serve as a mentor to Uche. "Uche has been a friend, and everything about our journey together has been ordained from above," he said. "My conversation with Uche's dad when I called to notify him of his son's scholarship sums it up when he said, 'Andrew, I left my son's destiny in your hands a long time ago. He is where he is today because of you. I do not have the means, but he has a great example in your person and really wants to make you proud.' I am thrilled that the platform of A2S is giving us a great opportunity to help a amazing young man realize his dreams."
Uche continues to work towards his dream of becoming an engineer thanks to the support of Andrew and A2S. "I had never been shown love the way A2S and Andrew have shown me love," he said. "My journey has inspired me to encourage fellow youth who are leaning towards things that will break their destinies to trust in God because their dreams can still come true. Do not allow the environment you see make you do things that you will end up regretting. My time volunteering with A2S has given me the confidence to share my story and to inspire Nigerian youth in any way possible. I hope to follow in the footsteps of my mentor by using my platform as an engineer to someday help youth to reach their dreams."