The monthly giving program of Access to Success.
At A2S, we strongly believe that it takes a village to transform a life. When you join FaithFuel, you become part of a community dedicated to supporting education and opportunity in Nigeria.
Would you consider joining our FaithFuel community?
JOIN THE COMMUNITY
A holistic approach:
Instead of sponsoring individual children, our monthly givers help to provide a holistic experience for each child at our After School Academy.
How does my gift help?
How do I join FaithFuel?
Set up your monthly donation by clicking the ​JOIN THE COMMUNITY​ button.
Check your mailbox, and collect each month's featured story.
Light a candle and pray for the A2S monthly spotlight.
Receive daily prayers from our A2S Nigeria family.
Return to step two and repeat!
Corporate Membership
Is your church, small group, or business interested in becoming a monthly FaithFuel member? Email Tiffany, our Communications and Development Manager, at ​tiffany@a2sfoundation.org​.
Featured Stories
Each month, we spotlight a different student or staff member, so that our dedicated FaithFuel members can read personal stories on how our Nigerian family is growing and advancing.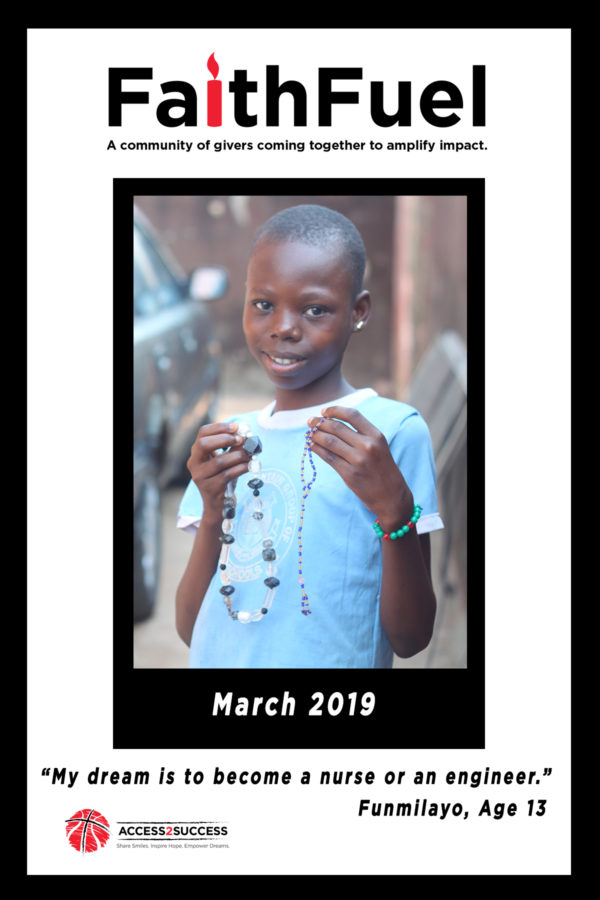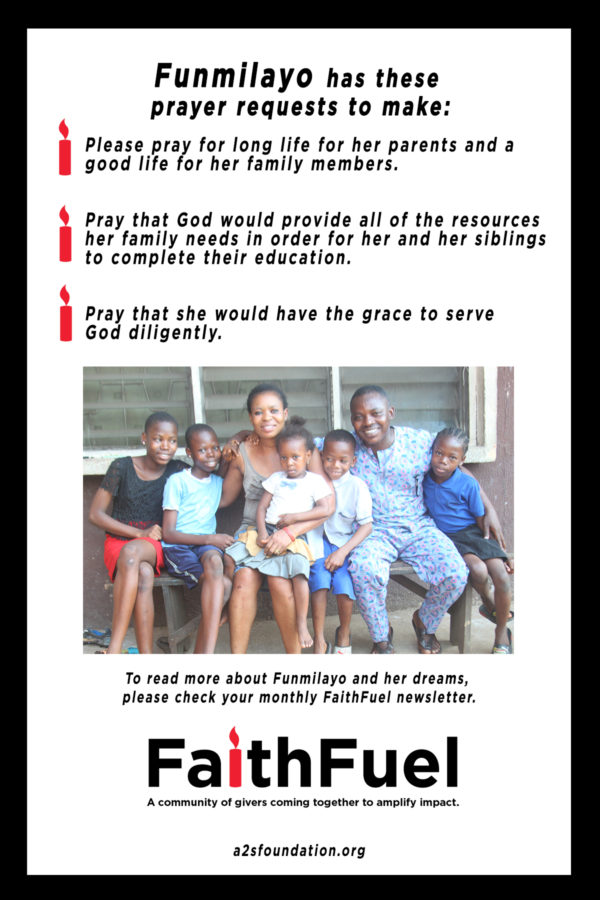 We are grateful to be part of this community with you. Together, we are fueling a circle of hope that surrounds our countries and ignites our faith.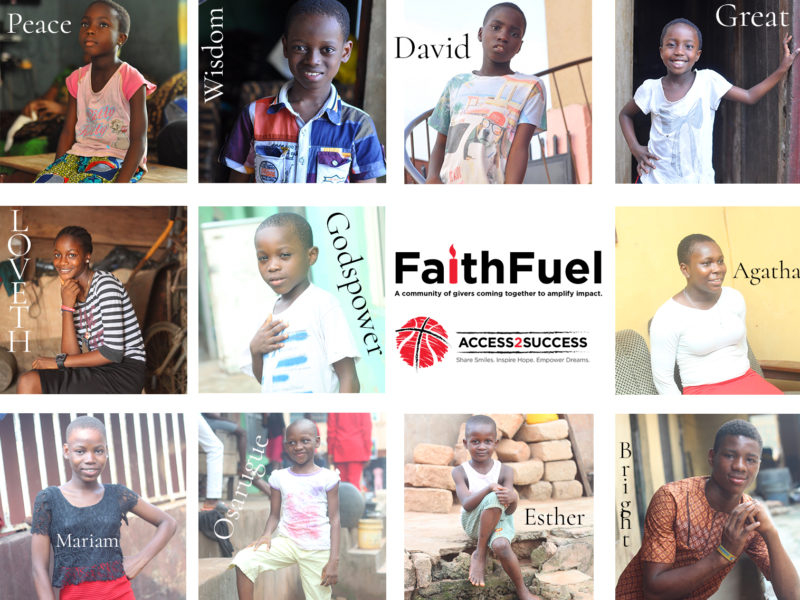 It takes a village.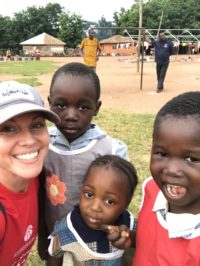 Erica
Charlotte, NC
"Being part of the FaithFuel community helps me feel constantly connected to our A2S family in Nigeria. My gift doesn't just become a "bill" that I pay each month, instead it is a reminder of the ways we are all lifting one another up during the highs and lows of daily life. "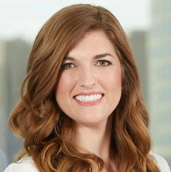 Morgan
Philadelphia, PA
"I donate to A2S because they help those whom society has forgotten feel recognized, loved and supported. Every time I sit down to a home cooked meal I can take pride that others across the world are able to do the same, and at that moment we are breaking bread together...all thanks to A2S."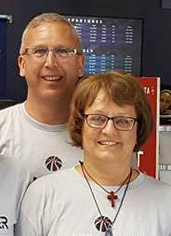 Anna and Doug
Austin, TX
"Having been to Nigeria twice, we saw with our own eyes the impact of the A2S programs and the amazing work being done with children in the After School Academy. By giving on a consistent, monthly basis we felt we could really help A2S meet the needs of the children and support the extraordinary work of the organization."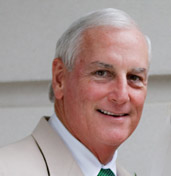 Wayne
Statesville, NC
"In my opinion, what A2S has accomplished is nothing short of a miracle. I became a monthly supporter of A2S over a year ago because I have come to know the heart of the mission. I have witnessed the lives touched by A2S in Nigeria, as well as the hearts touched in the U.S., including mine."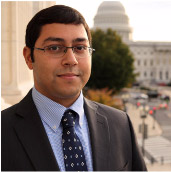 Anjan
Washington, D.C.
"I'm honored to be a longtime supporter of Access to Success. Over these months and years, as the organization has grown, it has always remained true to its core mission - to serve others. I'm incredibly proud of the work Andrew Lovedale and his team continue to do to bring opportunities, resources, and joy to so many."

Your word is a lamp unto my feet, a light unto my path. Psalm 119:105