A2S Meal-a-Thon: November/December 2017
#A2SFeeds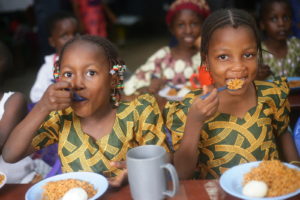 The fifth annual Meal-A-Thon will start November 20, 2017! With your help, we have served over 330,000 meals through the A2S Feeding Program since 2013. Last year, our Meal-A-Thon raised over $85,000! These funds will continue to support our A2S Feeding Program. Please stay tuned for 2018 Meal-A-Thon news! If you or your organization would like to get involved by running your own Meal-A-Thon campaign, please contact Grace, Communications and Development Manager, at grace@a2sfoundation.org.
Thank you for your support!
Help End Hunger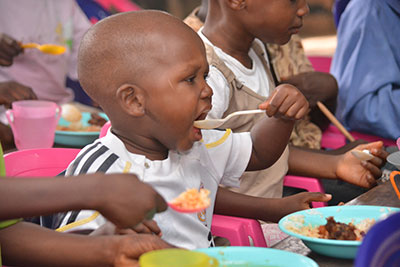 $22 Feeds A Child For A Month
To many of us, $22 means one dinner at our favorite restaurant. To a child in Nigeria, $22 means a hot meal every single day for a month. Extend your end-of-year support by making a recurring gift of $22 a month to change a child's life this year.
31 Days of Giving Challenge
How can you get involved in the A2S Meal-A-Thon? Be part of 31 Days of Giving Challenge! Find a different way every day to give back to A2S and donate the money you raise, save, or earn to provide meals for children in Nigeria. Be sure to share the ways you make a difference on social media!
#A2SFeeds
Ways to RAISE:
Rake leaves for a neighbor.
Fold laundry for the family.
Host a ping pong tournament.
Host a holiday bake sale.
Sell hot chocolate on a cold night.
Host a car wash.
Hold a 50/50 raffle.
Start an A2S fundraising campaign.
Babysit.
Be the neighborhood dog walker.
Do odd jobs for friends and family.
Have a dress down (or dress up!) day at school/work.
Run a Turkey Trot and raise money for your steps.
Collect gently used items and have a yard sale.
Provide gift wrapping for family and friends.
Ask a local restaurant to give 10% of a day's proceeds to A2S.
Ways to SAVE:
Clip coupons for grocery list items.
Make holiday gifts instead of purchasing them.
Pack lunch instead of purchasing.
Give up your morning coffee run.
Make dinner instead of eating out.
Skip movie night at the theater and rent instead.
Make your holiday Christmas cards.
Put extra change in a jar at the end of each day.
Give up a meal together and give proceeds to A2S.
Give up that new iPhone app (no PokeCoins!)