Our Story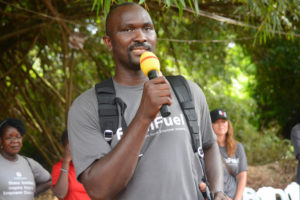 Andrew Lovedale
Founder & President
My father died when I was 14 years old.
I can't forget the emotions that swirled in me as a young boy during that period of my life. It was the first major turning point in my short life, ultimately changing my perspective and putting me on the edge of a new, drastically different journey.
Born in Benin City, Nigeria, I was child number eight in my parent's clan of 10. Both of my parents were educated, held positions in public service, and placed heavy value on education for their children. Our family was an anomaly among other Nigerian families.
But then my father was gone and our large family, accustomed to living in a home with multiple rooms, was forced to move into a compound with only two spaces. Things that had come so easily to us in the past were treasures. To say it was humbling is an understatement.
My brothers stepped up and introduced me to a new focus: basketball. In Nigeria, it is uncommon to be both an athlete and a student; my father actually discouraged sports. The stereotype defines people who play sports as hooligans and those who study as respectable members of society. In my wildest dreams, I couldn't have created the story that was beginning to play out.
Fast forward several years to a trip to London. A visit to see my brother yielded a stop at Amaechi Basketball Centre. Oh, the beautiful basketball courts at Amaechi! I enrolled in school and competed for the Centre's team, Manchester Magic. Coach Joe Forber was like a father to me, guiding me and helping me grow in my education and on the court. I learned I had the power to shape a destiny if I believed and invested in people the right way.
Amaechi Basketball Centre was my first platform; it was the stage I needed to meet the head coach at Davidson College in North Carolina, Bob McKillop. I think Coach McKillop still chuckles when he thinks of the first time he saw me — I was sweeping the court after our practice to ready it for the next group. He explained his long-time motto for his program: Trust, Commitment and Care, on and off the court. We were a match and I found myself a Wildcat in the fall of 2005.
Another turning point. Another platform.
It was an intense transition. I had never been to the US before! Climate, culture, and basketball in a 5,000-seat arena! It was so different, but I felt I was receiving these opportunities for a reason. My purpose began rumbling inside: uplift others as I had been uplifted.
During my freshman season I was astounded at the amount of athletic gear we received … and how much we discarded as it began to wear out. When I played basketball in Nigeria we played in sandals, poorly-made shoes, and even barefoot. My memories sparked an idea. That year, my teammates collected all of their worn shoes, and I returned to Benin City in the summer to share them with the youth.
I went back again the next summer with more shoes.
And then the real adventure began. We reaped the rewards of our hard work on the basketball court, winning 25 straight games and making Davidson Wildcats a household name with our run to the Elite 8 of the 2008 NCAA Tournament. Publicity surrounded the team and all of a sudden my return to Nigeria included basketballs, jerseys and more shoes than ever before.
In my final season we held the first annual Kicks From 'Cats' Shoe Drive during our Bracketbuster game on ESPN. Samaritan's Feet joined the effort and the drive collected over 10,500 pairs of shoes and raised $15,000.
And the journey was just getting started.
Faith, athletics and education made the difference in my life. I wanted to create opportunities for the youth of my country to grow in the same ways. A group of volunteers joined me in Nigeria that summer, distributing shoes and offering basketball clinics. The trip spawned more prayer, more research, more discussion, and in 2009, Access to Success was founded. I am eternally grateful to my co-founders, Lauren Biggers, Morgan Clark, and King Mawhinney, who learned my heart, saw the need, and acted.
June of 2011 marked the first Access to Success clinics and camps in Nigeria as our small team visited schools, led basketball and volleyball clinics, and worked with a local church to begin creating an afterschool program.
Sometimes I feel the need to drop to my knees as I reflect on the people who continue to drive youth opportunities in Nigeria. The years have yielded a growing team in both the US and Nigeria, an afterschool program (building coming soon!), a feeding program for our children, scholarship opportunities, and athletic, empowerment and bible camps.
Every person associated with Access to Success — volunteers, donors, staff, community partners — is committed to uplifting people in a manner that shares the love of God and creates sustainable educational opportunities for the youth of Nigeria … opportunities we believe they will pay forward as they move along their life journeys.
Filled with God's grace and deep gratitude, I stand here today and affirm that out of loss can come gain.
My first 'Why me' was born out of need, an urgent prayer to God to use me to benefit my family and a promise to serve him forever.
Now the 'Why me' is born out of gratitude, a reverent prayer to God for answering my plea in ways I could have never imagined.
Pray with us, join us, follow our progress as God leads us to the next platform.
Humbled,
Andrew Lovedale