A Look Back at 10 Years – Clair Asbury Lennox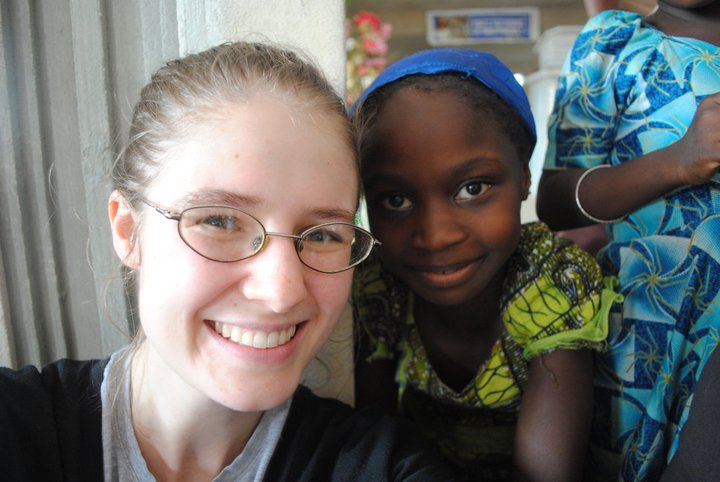 I can't believe that it's been nearly ten years since I traveled to Nigeria in June of 2011 with the first official team from Access to Success.
I had been lucky enough to be a student at Davidson during our men's basketball team's incredible run to the Elite Eight—and I'll never forget being at the first game in Raleigh, having a major freak-out while watching our beloved "Big Cat," #41 Andrew Lovedale steadily closes out our win against Gonzaga with the most important rebound in Wildcat history, followed by two pairs of clutch free throws. As he sunk one from the foul line, Billy Packer told the country what we already knew: "You don't win this game without having a Lovedale."
For all he did on the court, I knew that Andrew was much more off of it. I knew the stories of how he collected his teammates' used basketball shoes after the season each year and took them back to kids at home in Nigeria, where they played with just as much heart but far less on their feet. And I followed the trip that he and others from the Davidson community made there with Samaritan's Feet in the summer of 2009 to deliver new shoes.
Ten years ago, when A2S was founded, I lived in Charlotte after graduation and came up to Davidson a lot to reclaim the feeling of home that I had fostered there, and that I was missing as a new adult in the real world. I don't remember what lonely or existential tweet I sent out into the universe that winter. Still, something about it made my acquaintance (and blogging mentor) and A2S co-founder Lauren Biggers tweet back, "You should come to Nigeria with us this summer!" Hm. Maybe… maybe I should! I didn't have a full-time job lined up yet. I felt aimless in a lot of ways. As someone who likes to stay rooted in the familiar, this was the perfect moment for me to jump. Why not take a leap out of my comfort zone to a new place, with people and a purpose I admired?
Thanks to the generosity of friends, family, and even strangers, I raised enough money to make the trip. I got my yellow fever vaccine and my supply of malaria pills, our visas were approved, and suddenly we were on a plane from Atlanta to Lagos. 11 hours over the ocean towards a continent I'd never seen. I landed with a jolt—not physical but mental. The transition into a world through all five senses seemed so unlike my own, and the first time my skin color put me in the minority. It was clear from anyone's first glance that I did not belong. And yet, I soon felt as though I did, thanks to the incredible generosity and hospitality of the community at Gospel Life Church in Andrew's hometown of Benin City. For ten days as we traveled to different schools, set up basketball drills at UniBen (The University of Benin), ate meals at Pastor Ben's home, and spent time singing and dancing. I was reminded of the power of relationships, cultural exchange, listening, and honoring people's stories. One of my favorite memories is of A2S co-founder Morgan Clark leading a community mapping project with church members on our very first afternoon, listening for what places and needs were important to them in their particular context. I loved meeting the children and teens, getting to worship with the Gospel Life congregation, and spending time outside on the basketball court.
There are things about the trip I wish I could redo. Most significantly, I had never been this far from home before, and I wish I could undo the low hum of anxiety that buzzed in my brain throughout the trip. I wish I could have fully taken in everything and let go of worries and homesickness. I know those are natural occurrences on a big trip, but looking back, I feel like they prevented me from being fully present and open in ways I think I could have been—and hope I would be now.
When our little group was the first to travel to Nigeria officially as A2S, so much was unknown. Even though I wasn't in the weeds of everything related to launching a nonprofit from nothing, I knew that we were taking the first steps in a grand experiment, helping to build the groundwork for what Access to Success would become. Ten years later—wow! I have watched more from afar, but with no less amazement and affection, as Nigerian and American staff have put together a rich and nourishing variety of programming for Nigeria's youth, from education to faith to sports to self-empowerment to entrepreneurship.
The impact of A2S and its ever-growing fellowship on both sides of the Atlantic is a joy to witness. There's a lot to think about these days here at home and around the world. A lot is going wrong. Each day we have to take a step to raise our voices against so much injustice and fear-mongering and find ways to honor the good.
Today and this week, I celebrate Access to Success, which has been going right for a decade. I'm proud to have been a small part of its beginnings—the journey affected me more than I can put into words (but here are two pages anyway, ha).
Join me in the celebration with a gift of any size through Oct. 4 to ensure that A2S's bright light will shine for many more decades!