Ekwu is Davidson's 'Igwe' of compassion [Lake Norman Citizen]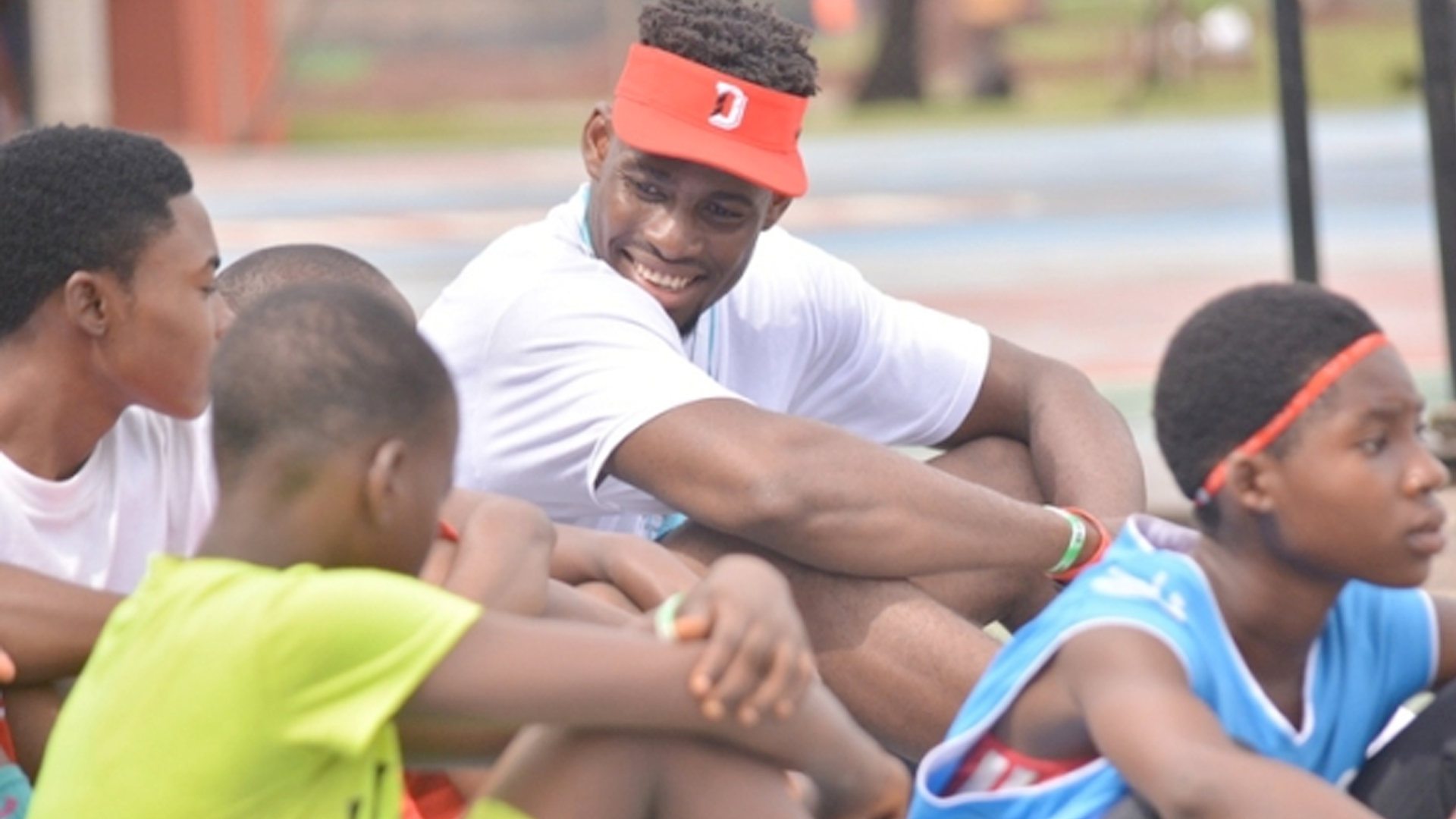 Written By Justin Parker, Lake Norman Citizen
When Davidson began recruiting Nathan Ekwu, the joke inside the basketball office was that the Wildcats were pursuing "Andrew Lovedale 2.0."
"Definitely an updated version," says Lovedale, best known for his post play on Davidson's 2008 Elite Eight team.
The comparison made sense. Like Lovedale, Ekwu is a forward from Nigeria. But beyond basketball, where the junior has become an integral part of Bob McKillop's rotation (when his aching knee allows), he's shown a heart for service that portrays just how accurate and prophetic that early nickname might be.
Lovedale long ago turned his focus to the mission field, and Ekwu now works alongside him. Their bond, despite the difference in age and eras, is a source of program pride for McKillop.
"It's a clear indication that there is a very special connection, a brotherhood," McKillop says. "A torch has been passed from one class to another class to another class, and the fire of our code of honor — trust, commitment and care — continues to burn brightly."
In 2009, Lovedale founded Access to Success, a Christian-based foundation that strives to impact the lives of Nigerian children and their communities. Ekwu has made two trips home to help lead A2S's annual basketball and empowerment camps. He hit the ground running on his first trip in 2015.
Two days into the camp, which included 500 children, Lovedale received a message that his wife, Molly, was going into labor six weeks early. He needed to return to the U.S. for the birth of his son, Osas, and told Ekwu he was in charge.
"I just said, 'Okay,'" says Ekwu.
Along with running the camp activities and giving motivational speeches, Ekwu oversaw the distribution of thousands of pairs of donated shoes and eyeglasses to those in need.
"He just did a fantastic job leading the rest of the trip," recalls Lovedale. "The kids did not even realize I was gone."
The children in the camp began calling Ekwu "Igwe," which means king in the Ibo tribe. Lovedale and Ekwu's Davidson teammates made sure the nickname stuck.
"I don't know how I got it or even if I deserve it, but I just embrace it," says Ekwu, wearing a bracelet featuring the letters I-G-W-E.
'My little angel'
Ekwu's bond with Lovedale, though special, may not compare to the one he has with a young Nigerian girl named Imuetinyan.
"That's my little angel there," Ekwu says at the mention of her name.
During that 2015 camp, Ekwu and Lovedale were talking while a group of 250 campers ate. Even in a crowd of needy children, Imuetinyan stood out.
"I saw this tiny girl, so skinny and she's already done with her food and everyone is about to eat," says Ekwu.
Before the basketball portion of the camp, Ekwu used music as a warm-up. It turned into a dance-off, and Imuetinyan was the last one standing. She was far and away the best dancer. Ekwu was stunned to realize it was the same hungry girl.
"After that, I was like okay, I'll keep my eyes on her," he says.
He asked Imuetinyan what he could do to help. She was obviously in need of much, but her request shocked him. Despite her challenges, she was still a child.
"She said, 'Please, I need a ball,'" says Ekwu. "I was like, 'You need a ball?'"
Ekwu gave her a basketball, her first one, and could not believe her excitement. The two became instant friends.
Later, Ekwu learned that Imuetinyan has sickle cell anemia, the same disease that claimed the life of her twin. That took their relationship to another level. Ekwu made it his mission to see that she receives the medication she needs.
"When her health came in, there was no way I was just going to let her be," he says.
Imuetinyan's family has his phone number, and the two talk from time to time.
"She looks up to Nathan," says Lovedale. "Nathan is her role model, and her parents are just in awe. Nathan has just been a great contributor to her family."
His own path
One of six international players on this year's Davidson team, Ekwu nearly landed elsewhere in the Atlantic 10.
He grew up in Enugu, Nigeria, and because he rarely had shoes, he usually played basketball barefoot. He thinks this might have contributed to his knee problems.
After being discovered at a camp in Nigeria, he attended Cardinal Hayes Catholic High School in The Bronx, a few blocks from Yankee Stadium and a few miles south of Fordham. He was leaning toward staying in the neighborhood and playing for the Rams, where he had a support system of people he knew, but he was intrigued by the chance to go out on his own. Davidson was interested, but Ekwu knew little of the tiny college in North Carolina or its basketball program.
Then he heard Lovedale's story. It was similar. Lovedale had grown up six hours away in Benin City and had thrived at Davidson where he was a starter during the magical NCAA Tournament run. The two spoke, and Lovedale told Ekwu that if he wanted an easy path to look elsewhere. If he wanted to earn his playing time and his degree through hard work, Davidson might be a fit.
Now, when Lovedale attends games, he finds himself watching Ekwu, whether he's on the court or not. In him, he sees so much of himself. They're kindred spirits.
"Nigeria could not have a better representative, and Davidson could not have found a better person to empower," says Lovedale. "That's what is really special to me, seeing Nathan at Davidson College, Nathan off campus and Nathan on ground where he is serving, where the fans are not cheering, but where the kids are reaching out in need of help. It's rare, and I think he's sort of carrying on the tradition."